ABOUT THE ANNUAL ENERGY TRILEMMA INDEX
The World Energy Council's definition of energy sustainability is based on three core dimensions – energy security, energy equity, and environmental sustainability. Together, they constitute a 'trilemma', and achieving high performance on all three dimensions entails complex interwoven links between public and private actors, governments and regulators, economic and social factors, national resources, environmental concerns, and individual behaviors.
As the global energy sector is being transformed by three reinforcing trends – decarbonisation, digitalisation and decentralisation – policymakers around the globe will come across new opportunities to make progress on the Energy Trilemma. At the same time, they will be required to sustain the advancements made on the trilemma over the past years by managing and actively integrating a greater diversity of market actors and technologies without fragmenting the energy system.
The Energy Trilemma Index quantifies the Energy Trilemma and comparatively ranks 125 countries2 in terms of their ability to provide a secure, affordable, and environmentally sustainable energy system. In addition, countries are awarded a balance score that highlights how well the country manages the trade-offs between the three Energy Trilemma dimensions and identifies top performing countries with a 'AAA' score.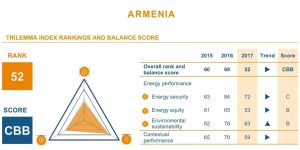 Armenia improves by 17 places this year, from rank 69 in 2016 to rank 52 in 2017. An improvement across all trilemma dimensions results in a balanced profile of CBB, with energy security being the country's weakest dimension.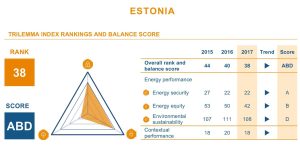 Estonia improves by 2 places this year, to rank 38. Poor performance in environmental sustainability, combined with good results in energy security and equity, result in an imbalanced trilemma grade of ABD.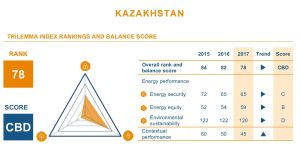 A jump of 4 places sees Kazakhstan climb to rank 78 in this year's Index. Good scores in energy security and equity dimensions are combined with a poor score in environmental sustainability, resulting in a balance grade of CBD.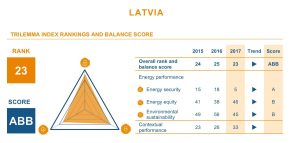 Latvia improves by 2 spots this year to rank 23. The country exhibits a well-balanced trilemma profile, especially for energy security where it is placed 5th globally, resulting in a balance score of ABB.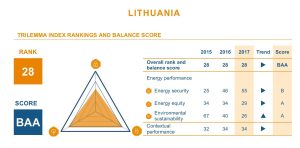 Lithuania maintains its position at rank 28 in this year's Index. Strong scores in both energy equity and environmental sustainability are complemented by a good score in energy security, resulting in a balance grade of BAA.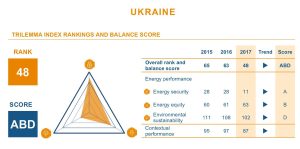 Ukraine jumps 15 places this year to rank 48. An excellent improvement in energy security this year, where it is ranked 11th globally, combined with a good score in energy equity result in letter grades of A and B, respectively. A low score in the environmental sustainability dimension results in an imbalanced trilemma profile of ABD.