Freedom in the World methodology
Freedom in the World 2018 evaluates the state of freedom in 195 countries and 14 territories during calendar year 2017. Each country and territory is assigned between 0 and 4 points on a series of 25 indicators, for an aggregate score of up to 100. These scores are used to determine two numerical ratings, for political rights and civil liberties, with a rating of 1 representing the most free conditions and 7 the least free. A country or territory's political rights and civil liberties ratings then determine whether it has an overall status of Free, Partly Free, or Not Free.
The methodology, which is derived from the Universal Declaration of Human Rights, is applied to all countries and territories, irrespective of geographic location, ethnic or religious composition, or level of economic development. Freedom in the World assesses the real-world rights and freedoms enjoyed by individuals, rather than governments or government performance per se. Political rights and civil liberties can be affected by both state and nonstate actors, including insurgents and other armed groups.
Countries to Watch in 2018
Georgia and Uzbekistan are among those countries that may be approaching important turning points in their democratic trajectory, and deserve special scrutiny during the coming year.
• Georgia: The ruling Georgian Dream party recently pushed through constitutional amendments that—combined with the financial backing of its reclusive billionaire patron—will make an effective challenge by the fractured opposition in future elections even more unlikely, potentially cementing the party's control for years to come.
• Uzbekistan: The new government has taken tentative steps toward greater openness and international engagement, but lasting change in one of the world's most repressive political systems will require sustained international attention as well as support for independent voices in the country's media and civil society.
Regional Trends
Eurasia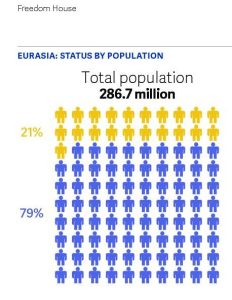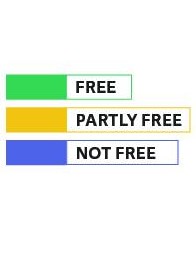 Some doors open as others close
Observers have long speculated about the problems and opportunities posed by presidential succession in Central Asia, where a number of entrenched rulers have held office for decades. In Uzbekistan, speculation turned into cautious optimism in 2017, as the country's new administration—formed following the 2016 death of longtime president Islam Karimov— took steps toward reform. Among other moves, the government ended forced labor in the annual cotton harvest for some segments of the population, and announced plans to lift the draconian exit-visa regime and make the national currency fully convertible. The new administration has also granted more breathing room to civil society; some local groups reported a decrease in state harassment, and a Human Rights Watch delegation was allowed to enter Uzbekistan for the first time since 2010.
In other parts of the region, however, governments sought to stave off change. In Armenia and Kyrgyzstan, heavily flawed voting highlighted the continuing erosion of democratic norms surrounding elections. The dominant parties in both countries relied on harassment of the opposition, voter intimidation, and misuse of administrative resources to maintain a grip on power. In Armenia's case, the blatant electoral misconduct stands at odds with the country's pursuit of a closer relationship with the European Union, with which it signed a Comprehensive and Enhanced Partnership Agreement in November.
Perhaps the most alarming threats to democracy in the region involved authoritarian forces reaching across borders to punish their critics. Exiled Azerbaijani journalist Afgan Mukhtarli was kidnapped in Tbilisi by men who allegedly spoke Georgian, then transported across the border to Azerbaijan, raising concerns that Georgian authorities were complicit in the abduction. In Ukraine, a prominent Chechen couple who were fierce opponents of Vladimir Putin and supported Ukraine in the Donbas conflict fell victim to an assassination attempt that killed one and injured the other. Numerous plots against politicians were also reported during the year, with Ukrainian authorities mostly pointing the finger at Russian security services.